Our Non-Emergency Limo Response Service
Millions travel throughout Florida and the beautiful Gulf Coast for yearly vacations, business trips, and family outings. Our area is known for its emerald waters and sugar-white beaches that draw tourists worldwide. However, you may not know that many world-renowned doctors and surgeons call this beautiful area home.
For over 30 years, the team at Bay Limo has provided professional and experienced services to fit all of our client's needs.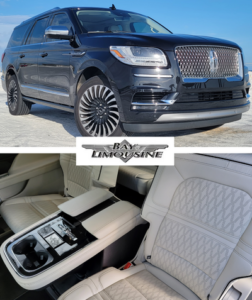 We proudly provide a Non-Emergency service that picks patients up from their doorsteps and safely delivers them to their destined hospitals or clinics.  From The Andrews Institute in Gulf Breeze, the specialists at Destin Plastic Surgery or any of the multiple Sacred Heart locations, Bay Limo knows you must reach your destination with a safe, reliable & discrete transportation service.  Our Non-Emergency Limo Response Service helps cut out the hassle of planning rides, parking, and traveling while your mind is focused on the most important issue, your health. Whether you need to be picked up from a private airport or your hotel, Bay Limo's professional drivers ensure you are delivered safely and quickly to the medical team waiting for your arrival.

Our team can assist with transportation for patients from elective procedures, plastic surgery, pain management, doctors' appointments, and even retirement communities. Many senior living facilities reside along the Panhandle, and not everyone has access to family or transportation nearby. Our professional chauffeurs can help your elderly patient get to where they need to be safely and in good care.
Are you a physician or a medical facility that regularly has specialists flying into the area to assist in procedures or share their medical expertise? All along the Gulf Coast of Florida and Alabama, Bay Limo is frequently called to transport surgeons and medical teams that need to be at the hospital or emergency room with extreme reliability.
Whether planning your perfect beach trip or staying at one of our amazing medical facilities, the experienced team at Bay Limo can help you get there in style and safety. We are dedicated to providing exceptional service for your NON-LIFE-THREATENING medical needs. Call 850-269-1200 today or visit Bay Limo to reserve your VIP limo.

We provide all non-emergency limo transportation to and from all medical offices, doctor visits, and hospitals. Bay Limousine drivers are all 50 state background certified and among the safest drivers on the road. Clients and patients will be most comfortable relaxing without worries while en route to treatments and checkups.

We provide some of the newest vehicles on the road for extreme comfort in ride quality, with bucket seats that patients/clients can recline all the way back in our VIP SUVs when needing to stretch out and several other comfortable options, depending on the needs of the client. Our services include doctor visits, VA appointments, consultations, and elective procedures from around the corner or across the country. Bay Limo can help take the stress away.