Destin's Premier Prom Limo Service: Your Ultimate Prom Experience
When prom season arrives in Destin, Florida, high school students are often preoccupied with a whirlwind of preparations – finding the perfect date, selecting exquisite attire, and budgeting for the night's festivities. However, we understand that parents' concerns go far beyond these details. Ensuring both style and safety for your child on this memorable evening is paramount, and that's where our professional prom limo service in Destin, Florida comes into play, transforming an ordinary prom night into an extraordinary experience.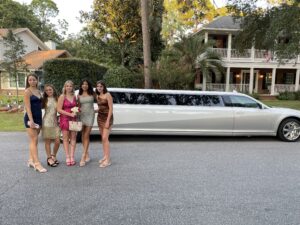 Creating Cherished High School Memories with a Prom Limo
Proms are renowned for their extravagance, with costs quickly adding up. From elegant dresses and sharp tuxedos to prom tickets, fine dining, elaborate hairstyles, and meticulous nail art, the expenses can become overwhelming. For seniors, the prom bill might also encompass hotel accommodations, post-prom celebrations, and, most importantly, transportation. Despite the financial challenges, parental concerns remain.
For many parents, the primary concerns related to prom go beyond finances. Among their top worries are the risky behaviors often associated with prom night, with the safety of their child's journey to and from the event being a major concern. Knowing that their child is on the road alongside other excited young drivers can be anxiety-inducing. To provide peace of mind, many parents choose to secure a limousine for their child, ensuring their safety throughout prom night.
Taking a Proactive Approach to Prom Limo Planning
Here's a crucial concept: Engage in an open and honest conversation with your child about your concerns regarding prom night and why it can pose challenges in making safe and responsible decisions. Be direct and clear in your communication. While your child may be young, they are often more perceptive than we give them credit for. While it's vital to protect them, it's equally important to empower them with the skills needed to make sound real-life decisions. Initiate a dialogue with your child about their plans for staying safe and avoiding actions that could lead to serious consequences.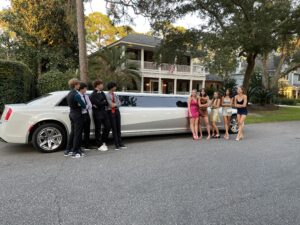 Destin's Trusted Prom Limo Service Provider
Choose your perfect prom limousine from our impressive fleet. Our stretch and super stretch limousines are the preferred choice for transportation to local proms. Need to accommodate more than eight passengers? Consider our party bus option, essentially a limo bus designed to accommodate larger groups, starting with 14 passengers and easily expanding to fit your needs. Our experienced drivers are dedicated to ensuring a safe and enjoyable prom night for your group.
Regardless of how you plan to arrive at prom, safety should be your utmost concern. We, at Bay Limo, have proudly served as Destin's premier prom limo service provider for years. Contact us today at Bay Limo and allow our expert staff to contribute to making your Destin prom night the best it can possibly be.