Discover the Ultimate Party Experience with a Destin Party Bus Rental!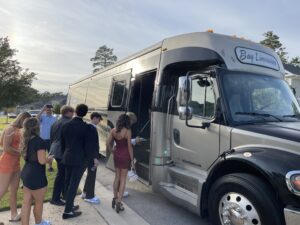 Are you looking to elevate your special occasion to new heights? Look no further than a Destin party bus rental! Whether you're celebrating a milestone birthday, a bachelorette party, a prom night, or just a night on the town with friends, renting a party bus can turn an ordinary event into an extraordinary memory. At Bay Limo, we specialize in creating unforgettable experiences for our clients.
Here's why renting a party bus for your special occasion is the perfect choice:
1. Mobile Party Venue:
Transform your celebration into a moving party venue! Our party buses are equipped with everything you need for a fantastic time – premium sound systems, dazzling LED lighting, and comfortable seating. You and your guests can dance, socialize, and enjoy the atmosphere as you travel to different destinations.
2. Safety First:
Your safety is our top priority. Our party buses are driven by professional and experienced chauffeurs who are well-trained to ensure a safe and enjoyable ride. You can relax and focus on having a good time while we handle all the transportation logistics.
3. Convenient Transportation:
Skip the hassle of coordinating transportation for a large group. With a party bus, you can travel together, ensuring everyone arrives at the destination simultaneously. No need to worry about parking, designated drivers, or navigating through traffic – we take care of it all.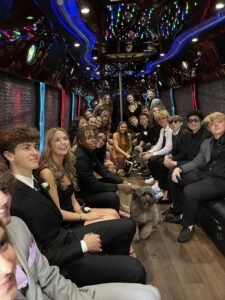 4. Versatile Options:
We offer a wide range of party buses to suit your specific needs and preferences. Whether you want an intimate, cozy atmosphere for a small gathering or a spacious bus for a big bash, we have the perfect vehicle to accommodate your group size.
5. Memorable Experiences:
A party bus rental is not just a ride; it's an experience! Imagine the excitement of cruising through the Emerald Coast with your favorite music, your closest friends, and stunning beach views. It's a memory that you and your guests will cherish for years to come.
6. Customizable Packages:
At Bay Limo we offer customizable packages to fit your budget and requirements.
7. Stress-Free Planning:
Our team of experts is here to assist you in planning your event. We'll help you with route planning, timing, and any special requests you have. Our goal is to make your celebration as smooth and stress-free as possible.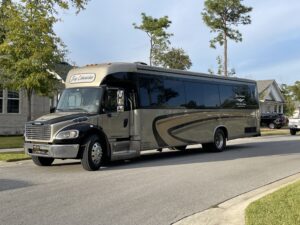 8. Environmental Responsibility:
We take our environmental responsibilities seriously. Our Destin party buses are well-maintained and adhere to emissions standards, ensuring that your celebration doesn't come at the cost of the environment.
Make your special occasion truly exceptional with a party bus rental from Bay Limo. Contact us today to book your party bus and start planning a celebration that you and your guests will remember forever. Don't miss the opportunity to create a unique, unforgettable experience that will be the talk of the town. Your journey to the perfect party starts here!